ANDREW BAILDON'S SUPERFISH SWIM SCHOOLS
The Drowning Prevention and Learn to Swim Experts Since 1996
Looking for the best swim schools on the Gold Coast and in Brisbane?
We have more experience, expertise, knowledge and professionalism – and we're fun!
Parent Portal:
Click on your school location button to create an account, log on to the parent portal and view class schedules.
Why your child's swimming lessons should be at Superfish Swim Schools:
Industry Revered, World Class Swimming Programs
Developed by Swimming Industry Speaker/Educator Karen Baildon and International Swimming Champion, Commonwealth Games Champion and Olympian Andrew Baildon, our programs include:
Drowning Prevention
Learn to Swim for babies of 4 months to adults
Group & Private Swimming Lessons
Swim Squads
Public Swimming & Lap Swimming
Aqua Aerobics & Adult Fitness Classes
Exceptional Schools Swimming Programs
Acclaimed swimming programs for Primary Schools in South East Queensland, providing the very best service, with better staff to student ratios, at a very competitive price – tailored to suit the needs of each school.

Remarkable Teaching Staff
Fully qualified and trained to the highest level, from our admin team to our highly trained swimming instructors, to the personal trainers and our baristas in the cafés; our team really do want you to enjoy their expertise every time you visit.
Kerryn, Superfish Pacific Pines Centre Manager & Head Trainer/Assessor, was awarded ASCTA 2017 AUSTRALIAN TEACHER OF THE YEAR! READ MORE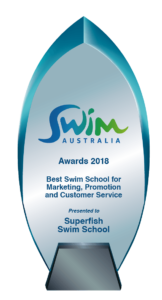 ASCTA Award Winning Outstanding Customer Service
We're dedicated to making your time with us an enjoyable and friendly experience. Your comfort and satisfaction are our priority, seriously, and we have recently been awarded the ASCTA Best Swim School for Customer Service, Marketing & Promotion
Indoor, Heated Aquatic Centres on the Gold Coast and in Brisbane!
Specifically designed for teaching and coaching, our swimming pools are indoors and heated to 31.5˚ approx. for year-round swimming. We pride ourselves on our swimming water quality, testing our pools 3 times a day, plus purification systems are installed for clean, warm water.
Outstanding Facilities
We provide heated changing room facilities, viewing areas and enclosed play areas for children with TV/DVD.
Barista quality Merlo Coffee plus tasty snacks and beverages.
Awesome Children's Swimming Pool Parties!
A fantastic 2 hour, fully catered pool party in Sunnybank, Pacific Pines or Benowa, with fun activities and party games with a qualified instructor. Suitable for children age 6 up to adults.
We pride ourselves on our water quality, testing our swimming pools 3 times a day, plus purification systems are installed for clean, warm water.
A few words from our customers...
Greatt place for kids to learn to swim, easy parking and great teachers

Michael B.
01:31 17 Jan 22
Great pool with friendly staff.

Great place to take my boys & an amazing place to work!!My child could swim by the time he was 18 months old. He could... fall in and swim back unassisted, There is no better feeling than knowing that my 1.5year old was water safe. All thanks to the amazing team at superfish.Turn up on time each week to your lesson, stay consistent & you'll be amazed with the results.read more

Breanna J.
11:31 15 Oct 21
We started coming for the free swimming lessons (babies up to 6 months which is fantastic) and now Rose is coming up to... 6M. Safe to say we will keep coming back to this pool and swim school! The management and staff are wonderful, the water is heated, the changing rooms are decent for a small building and there is even a little section in the corner next to the pool for all the babies to get ready for their lessons.read more

We started at Superfish in October 2020. It was the best thing that ever happened to our family, not just for our... daughter. We have met some amazing couples in swimming classes. My daughter lights up from the moment we get out of the car. She started to recognise Taylor from behind desk now at 18 months she has started waving from the car. Starting to say Hi T. It has become our second home. Harper loves Superfish from the moment we walk in that door.By far the best part of Superfish is Ms Cath. My daughter has adored her from the moment she had her first class. She has always been so caring, loving and supportive. Harper has blossomed so much because she trust Cath so much. Harper is so confident thanks to Cath. Cath will push Harper when she needs it. We are so grateful for her guidance and for shaping Harper. Cath is 100% the best swimming teacher, not just our eyes but my daughter's too.I highly recommend Superfish to anyone. It was the best decision we made in October 2020.read more

Great indoor heated pool close to us. When the weather is cold outside it's a no brainer to come here.

Well managed, friendly staff👍

Awesome staff and facilities

Alexander W.
01:17 20 Apr 21
My son has been to Benowa Superfish since he was a baby. At 4 years of age, he has had Dana as a instructor/coach for... just under a year. Dana has managed to turn my son from a child who fears the water to a child who cannot get enough of swimming and often 'practices' what he has been taught in the bath tub.read more

CuriousPanda
10:58 17 Apr 21
My son has attended Superfish Benowa for about a year now and he loves it. The facilities are great, classes very well... organised and his instructor Joshua is great with him and the other kids. His swimming skills and confidence in the water keep improving every week, and he always leaves class with a smile on his face.read more

good complement of qualified teachers, with a decent structure and availability of classes. i particularly like their... well organised make up systemread more

Very friendly...good lanes...and under cover. .

karen hambleton O.
20:34 08 Mar 21
Superfish Sunnybank was recommended to me by a friend. We had our son booked in for a trial lesson to get a feel for... it. The staff and instructor were very friendly, and I can see my son's improvement even after the trial lesson. Decided to enrol and have been through a couple lessons. Happy customer, highly recommend.read more

Always Friendly and very helpful staff. My girls have learnt some very important life lessons and they make it so fun... for them. Definitely recommend!read more

Very professional and nice staff, my daughter really enjoys of learning swim here. Recommend to everyone who would like... to start a swimming journey!read more

Xiaoyue G.
10:53 28 Feb 21
Very professional and friendly staff, my daughter quite enjoys learning swimming here. Recommend to everyone who wants... to start the swimming journey!read more

Xiaoyue G.
10:50 28 Feb 21
My two boys, a 5 year old and 3 year old has been taking lessons here for the past 3 years.They have both learn to... swim confidently.Love the indoor warm water setting for all year round lessons.read more

Benny Joon S.
06:40 27 Feb 21
Ms Grace is her favourite instructor, loves her!

very good experience, nice instructor💯

Worth it to let kids learn there to build up good swimming skills.

Great swimming school. The teachers are so great with the kids and make the whole experience a lot of fun.

My 4 years old girl enjoyed swimming lessons with Joshua at the Superfish at Benowa. She loves it and exciting for the... class every week. It is a great place and all of the staff are so lovely. highly recommend Superfish in Benowa.read more

We have loved the baby learn to swim classes at Superfish Swim School Benowa. They are great for a baby's initial time... in the water but also a lovely way to bond and interact with your baby. Grace is a fun instructor.read more

Our sons have been swimming with Superfish for 5 years, centre staffs are helpful and friendly, we love Superfish.

Jacky and Sue Y.
00:28 26 Feb 21
Great facilities and swimming teachers. Heated pool, clean change rooms and lots of car parking.

Such a fantastic swim school. Great teachers and excellent facilities. My daughter looks forward to coming every week.

My son started learning to swim at 6 months old and we've been with Superfish Sunnybank since then (he's now almost 4... years old). I love their focus on drowning prevention and appreciate how our teacher gently challenges him to do his best. The staff there are accommodating and always willing to help. I'm grateful with where he's at and we look forward to swimming every week. Keep up the fabulous work team!read more

Margaret T.
13:43 24 Feb 21
Excellent swimming school! Friendly staff! Very close to school, we can swim straight here after school.

We signed our 3 year old up to his first class last week. We were so impressed with how lovely and fun his instructor... was and also how easy admin made it to set up his enrollment. Looking forward to seeing him progress at Super Fish.read more

My 2 kids have moved to Superfish and is loving swimming more than ever. Coaches are professional and friendly!

Highly recommend, very friendly and good knowledgeable staff ,very happy with superfish swimming class at pacific Pines

Dharmendra P.
03:51 24 Feb 21
Jordan and Rhys love swimming with Cassie at superfish Pacific Pines. They look forward to their lesson every week and... have improved so much in their swimming ability!read more

Michelle P.
02:12 24 Feb 21
Been going for 8 months now and we are very happy with our daughters progress. Great swim school, would highly recommend

The best swimming school I ever attended on the coast, great facilities and very friendly staff, my daughter's teacher... Diane is very knowledgeable and helpful, excellent experience from every class. Strongly recommend to all parents.read more

I've been bringing my daughter here for lessons since she was 3 months old (she's 10 months now) and it's her favourite... part of the week!! She's so confident in the water and she loves her teacher. We highly recommend to all!read more

The amazing team at Superfish have taught my son for almost 5 years! He has a real love for swimming and gets excited... for his lesson every week. We tried other swim schools before finally finding what we consider to be the best.read more

My 3 children have been going to Superfish swim school for many years. My older two have completed all the way to squad... levels and are now very strong swimmers. My little one is halfway there with so much confidence. Very friendly environment for families. Perfect place for them to have fun and learn at the same time.read more

Our son has attended Superfish Swim Schools at Benowa since he was 12 weeks old. Over the last 3 years it's been... wonderful seeing him develop into a confident little swimmer!! The teachers are experienced and have a great rapport with the students and admin staff always accommodating. We highly recommend Superfish Swim Schools to any parent looking for an amazing place for their child/ren to learn to swim.read more

Jonathan K.
09:08 23 Feb 21
We couldn't be happier at Superfish Swim Schools, Benowa. Our daughter's been attending weekly lessons since she was 11... weeks old. I can confidently say if it weren't for her lessons, she wouldn't feel as 'at home' in the water, as what she does 18 months on. A big shout-out to Kerryn Harber for being such a fantastic teacher, giving great advice and always making the lessons fun!!read more

Gina-Marie K.
07:45 23 Feb 21
We have been attending Superfish on and off (due to our financial situation) since our son was 6 months old (he's... nearly 4 now) and we are extremely happy with the program. Our son was really nervous about swimming and didn't want to get his head wet but with persistence from his coaches he is now a confident little swimmer and loves the water. We can't recommend Superfish Swim School highly enough! Extremely professional and highly knowledgeable!read more

Great place for kids to learn swimming...

My three kids have been learning swiming at Superfish since four years old. The instructors are friendly and... professional, management team are easy to approach and very helpful. With warm water pool also means my kids can learn swiming during winter time without worrying catching a cold. I can easily arrange make up class via the app if kids miss their classes .Highly recommended.read more

Great friendly service and amazing teachers who have done an amazing job teaching my children to be able to swim and be... safe in and around the pool 🙂read more

Anne-Marie L.
06:05 23 Feb 21
We have been coming to super fish for years and they are great!

Jacinta L.
05:37 23 Feb 21
Awesome teachers and front desk staff.

Deborah F.
05:03 23 Feb 21
Superfish at Benowa is a great place to take your child for swimming lessons. All of the staff are so lovely. My 5-year... old daughter has one-on-ones with Dana and she has improved so much - today she swam 10 laps of the pool! I highly recommend Superfish in Benowa.read more

So glad we have found the swim centre for us. We have tried most swim schools in the area, but this is by far the best.... Lovely new and clean, great layout with space to support your child, never crowded, it is a relaxed environment and the teachers and staff are lovely and talented at what they do. So happy to have my children get to attend here.read more

My son has always struggled learning to swim but he has only had 2 lessons at Superfish Benowa and he has already... improved so much. He loves going and is now aspiring to join squads!read more

It is a fantastic swim school. Very professional!

Super fish Benowa is the best swimming school I have ever attended. My daughter swam here since she was 3 months old.... Now she is turning 9 months. She loves the water and swimming here. All of the staffs and coaches are nice and professional. I recommend here to all of my friends. And my wife also have a plan to learn swim here.read more

The best swim school we have ever been to. All the coaches are super professional and actually teach the kids correct... technique as well as drowning prevention. I have seen so much improvement and confidence in my kids and their swimming ability. They LOVE coming to their swim lessons and look forward to it every week!read more

Stephanie P.
12:28 22 Feb 21
Hands down the best swim school! Teachers are amazing, the facilities are beautiful and they are always so friendly and... helpful!read more

环境不错,老师都很有经验,非常nice.女儿们很喜欢

Jianing Z.
11:50 22 Feb 21
My 2 year old son has been attending Superfish Pacific Pines since he was 4 months old. My son has so much confidence... in the pool and we owe it all to the amazing teachersread more

We have been with Superfish swim school for a long time and I really recommend all kids to attend the classes here. The... reason being they are genuine, compassionate and the teachers plus staff are friendly and very supportive. My son enjoys coming here . I love Superfish swim school.read more

nayantara G.
11:01 22 Feb 21
Staff are very welcoming and professional and the swim instructors, especially Sarah, are extremely friendly and... patient. My daughter who is a shy and nervous swimmer always finishes her class smiling and wanting more.read more

We cannot recommend Superfish enough. Our daughter attended the swimming lessons pre Covid and has recently resumed her... lessons. Prior to re-starting her lessons, we were worried on how she would go as she isn't as confident in the water. Her teacher has been nothing but amazing and helped her gain confidence and she has since greatly improved.read more

I signed my 3 year old son up to twice weekly lessons in July last year and he has thrived since. I am confident in his... drowning prevention skills and love watching him get more confident and comfortable with his swimming abilities, the coaches are always accomodating to each individual child's needs and skillsread more

Love taking my kids to super fish swim school in pacific pines, they really enjoy the water now and have so much... confidence, I'm so happy I chose super fish for their swim schoolread more

Chylaan G.
08:28 22 Feb 21
Professional swimming coaching center. Friendly and helpful staff. Hygienic facilities. Highly recommended!

Superfish swim school is Highly recommend . Great facility, great and very knowledgeable swimming instructors , very... friendly staff and atmosphere.read more

Such friendly staff and amazing teachers.

My children have been attending lessons at Superfish Pacific Pines since 2013. They have been so great at teaching them... how to swim; all the teachers we have had over the years have been fabulous and really know their stuff. Reception staff are always so accommodating when it comes to changing lesson times, always friendly and know us by name. We wouldn't go anywhere else.read more

My 2.5 year old daughter has been attending lessons at Superfish Sunnybank for 6 months now and can't believe the... progress she has made! Very professional teachers and managers, great facilities - heated pool and convenient clean bathrooms/showers. Highly recommend!read more

Crystal L.
06:34 22 Feb 21
We love Superfish Swim School. My 3 year old twins go to lessons every Saturday with Miss Toni and their confidence in... the water has improved significantly with just one month of lessons.read more

I love superfish.. my daughter been here for 4years, she is very confident with her swimming😍😍

My daughter been there since 3 year old and she found the place was very nice and instructor was very helpful...great... job keep it up...👍👍👍read more

Wonderful facilities, amazing teachers and friendly staff which go out of their way to help. Highly recommend... Sunnybank Superfish Swim School to any parents looking to ensure that their children are water-safe.read more

Brendan B.
04:07 22 Feb 21
Highly recommend this swim centre. Easy to communicate with their friendly staff as always. Patient coach, especially... when teaching younger kids. We will definitely continue to go to this centre.read more

Emptycity C.
03:28 22 Feb 21
My son loves coming to swimming every week

Superfish have helped our kids be more confident in the water. I would highly recommend to anyone looking for lessons

Sandeep T.
00:09 22 Feb 21
Just started swimming lessons here and both I and my kids are loving it. Amazing staff, great facility.

We've only had a few lessons but we are loving it. We are new to swimming lessons and the staff and swimming... instructors are great, they interact with the kids and have lots of fun with them, making them feel comfortable in the water. They are also really great at explaining things to the parents. We have thoroughly enjoyed our lessons here.read more

I've been taking my son to Superfish Benowa since he was 3 months old, 1.5 years later and he is absolutely thriving,... the instructors are amazing, the programs are very in depth and helpful and it's an overall enjoyable experience every lesson!read more

All my three children are attending swimming lessons in Superfish Sunnybank. Excellent instructors and manager. ... Definitely thumbs up!read more

Best swim school we have ever attended! Both boys have been swimming for over a year and they love it.

Been swimming with them a while. Great teachers.

After trying several different swim schools we joined Superfish Benowa 2 years ago, and have been coming here ever... since.The teachers and staff are all so friendly and encouraging, and the facilities are the best we've seen - especially the change tables with optional heat lamps which are so important for the babies during winter.We're happy to be SUPERFISH! 👌🏾read more

The best swim schools on the Gold Coast! We do lessons and swim club, everyone is so friendly. The staff are incredible... and their passion for teaching really shows with the progress the children makeread more

Highly trained teachers and staff. Clean environment.

Highly recommend pacific pines superfish swim school. Great services and facilities, great swim coaches and atmosphere.... 5 stars. KHSread more

This centre takes care and pride in teaching there students, the Instructors are amazing listen and differently makes... it happy environmentread more

Jamie is learning new skills and progressing her swimming! Loves her instructor Natasha!

Great facilities for babies. Fantastic staff. Excellent programs. My three year old has been coming to Superfish since... he was 3 months old and he loves it. Thank you to all the staff at Superfish Benowa.read more

Danielle S.
00:17 10 Feb 21
Superfish is a really good place to learn swim. My daughter loves it. Good facilities and experienced teacher.

A great facility with great staff. The kids love going and it has made them so much more confident in the water.

Fantastic teachers, great facilities, and friendly staff.

Thanks Gina,You are the best,Oli love you so much.

Lovely teachers and a clean facility. Our weekly swimming lesson with Miss Cath is always a highlight of my toddler's... week!read more

Superfish Benowa is a fantastic swim school, so many class times and a wonderful huge heated pool. The teachers are... brilliant and I'm constantly in awe of the progress and improvements my sons make each week. The children are often rewarded for doing well and moving up a level. I highly recommend this swim school.read more

Enthusiastic teachers and love the safety skills are the focus. My son enjoys lessons twice a week.

We have been attending Superfish Swim Schools since my daughter was 3 months old and would never change. The team at... Superfish are so professional and teach valuable and age appropriate skills for the children to learn in the pool. They explain the reason for each of these skills and grow on them as the children grow. All the teachers are so patient and understanding if a child is upset and not wanting to proceed with the class and always allow another lesson. We especially love swim teacher Cassie who really gives our daughter the confidence to move to the next level. We would highly recommend Superfish for anyone looking for a high quality swim school for their children.read more

My boy enjoys it. Clean venue with nice instructors.

there are baby change tables inside the ladies change room which is very handy and provides great privacy plus the... heater always helps during colder months. plenty of classes available and plenty of parking too.read more

lorraine L.
09:02 04 Feb 21
Excellent instructors. Squad coach is amazing. My girls love coming to swim lessons. Swim Club is super fun too!

Shavaun W.
02:44 04 Feb 21
LOVE Superfish at Sunnybank! my daughter has been a student there since she was 4 months of age, doing the baby... classes, and now she is 4yrs old. The team at Superfish helped her sudden issues with not wanting to be in the water (for a good year), to the point that she now can not wait for swimming class. I am now at a level in which I can be confident of my daughter's swimming abilities in other people's pools and public pools, without me being in the water. They are also very flexible when it comes to make-up classes. Thank you so much to Superfish!!read more

My 4 yo daughter is very wary of the water but she feels right at home in her lessons at Superfish. A really well run... place with great instructors.read more

The experienced coach has helped my kid throughout the first 5 weeks of swimming and we immediately could see him... building up confidence and now without help, he could swim to the middle of the pool steadily. Thankyou to Gina for your help, we definitely recommend this Superish School to other people.read more

Superfish Sunnybank is always been my daughter's favorite swimming school. Swimming instructors are well qualified and... professional with spirit of giving their best to the learners. Highly recommended.read more

The teachers there are wonderful and cater to all the students needs. They are professional in the way they deal with... the students and parents. Only have experienced positives from here!read more

I have all 3 of my boys at Superfish. I thoroughly enjoyed the baby program and now have one Dipper, one Flipper and... one Nipper. Friendly staff and great teachers. Thanks for giving my boys a great start when it comes to safety and confidence in the water.read more

Victoria A.
06:00 03 Feb 21
My daughter she is coming here from long time ,staff is really good and supportive,always helpful

We initially started in the free baby program, which in itself was amazing for a free program! Now in the Dippa... program, we love attending every week, seeing the progress, and having the support from the teachers. Definitely recommend.read more

A credit to the professional and friendly staff that through great support and training have helped my child achieve... leaps and bounds in his swimming!read more

I cannot recommend Superfish Swim School Benowa highly enough. Our son has been attending weekly for 15 months and he... absolutely loves it. I can see how much he is improving every week. The team are always available and helpful when we need assistance and the coaches are great.read more

We love doing our swimming lessons here. We have been going since my daughter was tiny more than 3 years ago. Both my... daughters are about to start a new level. They are learning and progressing so fast. The reception team are lovely as are the pool staff. Bree Mel Dana and Karryn are our fav teachers. Having an app to book lessons and organise make up lessons helps so much!read more

Awesome swim school !!, my 3yr olds water confidence was through the roof but his skills were awful and scary, we were... worried for his safety. Superfish Pacific Pines has taught him valuable lifesaving strategies on how to save himself if he falls in the water. In just a short time my 3yr old has been given the base skills he needs, we are so grateful to Superfish and look forward to watching his skills grow.read more

Priscilla H.
01:34 03 Feb 21
We started our journey at Superfish swim school Sunnybank with the water familiarisation classes for our baby. Every... lesson taught by Gina was engaging and fun that once this class finished we continued on.We are loving our saturday morning classes with Gina, she is giving us the confidence and knowledge around water safety with our child.Thankyou Gina!read more

My son is attending the swimming sessions and I can see his great improvement in just under two months. Great... instructors and friendly staff. Highly recommended!read more

Highly skilled, friendly teachers. Both kids have come a long way with their skills since starting here. Highly... recommend!read more

We have been taking our child since she was 3 months old, and we cannot recommend this place enough. The quality of... the teachers is outstanding. My tip, take advantage of the free classes from 3-6 months old, you will never regret it!read more

Michael C.
12:41 02 Feb 21
Absolutely amazing teachers and facilities, would definitely recommend!

Jillian J.
11:20 02 Feb 21
Very happy with the friendly and dedicated team at Benowa Superfish Swim School. My daughter has been coming to this... centre for 3 years and it has been amazing to watch her growing confidence in the water. She looks forward to swimming every week. Special mention to Ms Kerryn, an amazing swim coach!read more

We highly recommend the one week school holiday intensive program!My four year old son was afraid of the water, but he... improves a lot and now you could not stop him from plunging into the pool.My six year old daughter loves to swim and she gets better with her kicking and swapping.Clean and organize swimming school with lovely teachers and staffs.Thanks Superfish Sunnybank!read more

Maricel H.
10:38 01 Feb 21
It is a great place to learn the swimming. Children are happy and teacher are very kind.

My son loves learning to swim here

Best swimming school on the coast! Highly recommended

Wonderful staff, and classes for all ages and levels

Jeremie Hill (.
07:02 19 Dec 20
Can not recommend this place enough! My son has been attending here since he was one, now almost four. After being... unhappy at another swim school, we found Superfish so different! Their make up lesson system is amazing and shows they actually care about the kids getting their lessons 🙌 Thanks guys for teaching Laker such an important life skill!read more

In the past years I have taken my kids to 2 other swim schools, but Supafish is leagues ahead of the other schools we... have been to.The staff are passionate, friendly, and they have a fantastic program that my kids love and have learnt a lot in a short time there.I highly recommend Supafish.read more

Great swimming school! Would recommend to anyone! My 14 year old one learned how to swim there from when he was 5 years... old! Thanks to Superfish now he is in a club competing and getting medals! My 6 year old one swims and he enjoys it and loves the teachers!Would recommend to anyone!read more

Wonderful teachers, great program and always well maintained and clean.

Elizabeth H.
02:36 02 Nov 20

Very well presented and the staff are friendly and helpful

WickedWildNWise
02:24 13 Oct 20
Fantastic staff and clean centre. Wish we had of found it sooner!

Michael H.
09:23 28 Sep 20
Great swimming school with fantastic instructors and staff.

So friendly and accommodating. My daughter has only had a couple lessons and already loves the instructor and swim mates

Great swimming lessons for babies and children. Great facilities, lovely teachers.

This is good pole because its close to my home:)

Was our first lesson today. And it was so good. The staff were absolutely amazing. Really enjoyed ourselves. Thanks... ladies, see you all next week 😘read more

Ashleigh H.
02:48 30 Jul 20
Great place, the whole pool is indoors and heated.

A great place for an indoor swim!Open to the public and they have adult squads as well as learn to swim and... Junior/Senior squads. The staff are super friendly and caring and they follow protocol during COVID.It's always clean and tidy and highly recommended.I would call before going though, just to check time and prices.Plenty of parking!read more


Love swimming here with little one great team

Bronwyn-lee T.
01:21 09 Jul 20
friendly, fun and super clean. Kods love coming to swimming every week

Anne-Marie D.
01:45 26 Jun 20
The team are patient and understanding. The Boyz enjoy their lessons and the instructors engaged. I would recommend to... anyone.read more

Highly recommend superfish swim school. I feel they are extremely professional in what they do. Teaching swimming ... safety is there number 1 goal.. the staff are always friendly.read more

Extremely happy with the school. Progress of both kids has been amazing but especially my 10 year old. When we started... she could barely swim through fear and now she is absolutely smashing it.read more

Feel so thankful to have been recommended to Super Fish Sunnybank through a friend. We signed up for the free baby... lessons from 12 weeks and haven't looked back. Bub is over a year old and loves the water because of these weekly lessons. Our beautiful teachers Natasha, Gina, Tracey and Ursala have been amazing and given us the best experience from day 1. They all genuinely love the kids and this translates into their teaching. The pool and change rooms are always clean and tidy. Would highly recommend Super Fish Sunnybank to anyoneread more

Great Place to beWe are going there for past 4 years andKids enjoys with all teachers -everyone's friendly -Thank... You...read more

Ravjas P L.
03:33 20 Jun 19
Really happy with the experience we have had here kids love their lessons

Great swim school, lovely teachers, our little one is going so well!

Nicholas F.
03:22 04 Jun 19
My son has been swimming there for 12 months and he is a great little swimmer thanks to his wonderful teachers

Katherine F.
06:12 29 May 19
My daughter has attended this facility since she was barely 5 months old. (now 9 months old) To see her progression and... confidence grow has been amazing. She loves her class, her teacher and the swims there outside formal classes. The facilities are excellent including ample change tables and baby wipes! Would definitely recommend for people with babies starting out with swimming as we have.read more

Thanks to SuperCoach Nina and Superfish Benowa for having my daughter Lucy during the Easter school holidays. Your... intensive program was fantastic with personalised coaching and a great facility for swimming and watching. Highly recommend- especially during the cooler months 👍read more

My daughter has been swimming at Superfish Pacific Pines for the past 3 years. When she began swimming at 4 years of... age, she wouldn't even put her face in the water! It is only due to the positive encouragement, dedication and commitment of her amazing coaches - Miss Tayla (currently) and Miss Kerryn (previous swim coach) who in particular have helped her face her fears and learn to swim! She now loves swimming and hopes that one day soon she will be able to join squad. 🙂 I highly recommend Superfish to anyone!read more

My daughter has been swimming at Superfish Pacific Pines for over 4 years. The team at Superfish are nothing short of... amazing. When our 6yo daughter was diagnosed with Leukaemia 4 years ago they were very supportive and did everything they could to work with us in getting her back into the water during and after her treatment, working with us to assure she didn't miss out and still progressed. Our daughter loves swimming with all of the amazing teachers. The only thing she wanted to do when she got her central line out was to get back to swimming lessons so that we did.We would definitely highly recommend the team at Superfish to absolutely everyone.read more

Shelley C.
06:48 24 Apr 19
Excellent team, brilliant program. My son started with water safety and has progressed to learning different swimming... strokes, all with great technique taught by world class educators.read more

My kids are legendary swimmers because of this place 🙂 Get on it!

My two children are loving their lessons and within the short time we've been doing them, both have increased levels of... confidence in the water. I can see my daughter's stroke technique getting better and breathing easier. Super awesome Super Fish!read more

We've been swimming at superfish for over 3 years now starting since daughter was a baby. Great teachers, reception... staff, great location with clean pool and surroundings. Thank you for all you do to our family ❤️read more

We have been taking our boys to Superfish Sunnybank since they were four months old. Eight years on the swim school has... long been an enjoyable routine every week ( even the six o'clock early starts now for swim squad)The quality of the swim program and professionalism of the centre has been exceptional.The learn to swim program has not only been enjoyable but life saving as the oldest fell in our pool (trying to grab a beech ball and you don't necessarily hear the splash) at fourteen months old and immediately rolled to float on his back. The education gained is far more than just high level swimming competency. The discipline learned in classes, self confidence and esteem gained combined with the lung development of the kids radiates throughout their other sporting, social and academic activities. Well done and thank you Superfish 👍read more

My son has been swimming at Superfish Swim School Sunnybank for the last 5 years. Started as a baby and progressed... through the program to where he is a competent little swimmer.Thanks to the amazing instructors I don't have to worry when he goes into a pool, as I know he can swim safely and look after himself.Looking forward to starting lessons with our 3 month old baby in the coming weeks. There is now one else who I trust we teaching my children how to swim.read more

Brendan B.
22:31 01 Mar 19
Great Swim School. Fantastic facility - 25m indoor heated pool. Amazing swim teachers that care about your child's... improvement. Reception staff who are always happy to help.read more

Elizabeth M.
11:03 27 Feb 19
Exceptional learn to swim centre! Friendly staff who always make an effort to get to know all of the students. Couldn't... recommend this place more highly! Everyone who wants their children to learn how to swim need to bring them to Superfish.read more

Incredibly professional. Very focussed water safety and teaching quality swimming skills. Purpose built facilities are... awesome!read more

Incredible staff and the care and expertise of this centre is beyond any other swim centre i have seen. The Owners are... meticulous about the safety of your child, do not wait another day to book in, you owe it to your child <3read more

Wonderful facilities, friendly staff and teachers that care. Highly recommended.

Janelle W.
20:14 26 Feb 19
The staff and the experience of the owners is beyond any other swim school around. They were Olympic swimmers... themselves so know what it takes to teach children to swim and saves lives, do your kids a favour <3read more

My children learned to swim at this centre and would not look anywhere else, 2 of my kids went on to become state and... National Champions. The staff and the experience of the owners is beyond any other swim school around. They were Olympic swimmers themselves so know what it takes to teach children to swim and saves lives <3read more

My kids have been at superfish since they were babies, my kids love all of the teachers, its like a second home to us.... The staff at Superfish Benowa are incredible, they have always gone above and beyond to help me work out my kids swimming schedules and have even offered to help get my screaming toddler to the car. Thank you to all the Superfish team for helping my kids to be confident little swimmers.read more

We traveled quite a distance for my daughter to swim at Superfish as we found their program's attention to technique... far better than any other swim school we reviewed.We have been greatly impressed with their whole program.Now my daughter is in squad, I can do my gym workout while she trains. What a bonus. Thanks Superfish.read more

Gabrielle N.
06:54 26 Feb 19
All my grandchildren have gone here, can't recommend the place more highly. It is our home away from home! Awesome... staff and great coffeeread more

Caralyn C.
06:07 16 Oct 18
Coming from an Southeast asian country, my step daughter who was 15 at the time couldn't swim. I brought my daughter to... Superfish Sunnybank to learn the basics of swimming like breathstroke, freestyle and backstroke. Within 2.5 months of coaching at Superfish Sunnybank she can feel confidence swimming those styles now.Thank you staffs at Superfish Sunnybank.read more

My son has improved so much in the last three months with superfish.The staff from reception, to the cafe and of... course the instructors are all so friendly and helpful and more importantly excellent at what they do.My son loves his swimming lesson days and that is because of the staff, thank you.We wouldn't go anywhere else and would certainly recommend them for anyone looking for swimming lessons for their children.read more

Heather A.
23:40 24 Sep 18
My son has been swimming at this fantastic swim school for 3.5 years and loves it. He is almost 4 years old is very... confident in the water and I owe that to his teachers. Each lesson he gets better and better. The teachers and administration staff are always there to help and they are also very polite, welcoming and happy which goes to show the management and owners must be good!! We love going every week and I will be forever thankful as this school is teaching my son how to swim. A special thanks to Kerryn Harper😀read more

We love Superfish Swim School Pacific Pines! Our little boy has been swimming here since he was 3 months old and is now... a confident and extremely happy two year old in the pool!There is a beautiful family feel from when you walk in and all staff members are extremely helpful and friendly. I love how encouraging the swim instructors are and also other parents within the classes. Our swimming teacher Kerryn is absolutely amazing and she is great at pushing kids to do their best in a nurturing way! Our little boy gets so excited to swim as soon as he sees her!!Nicola in the cafe is one of a kind!!! She is most helpful and makes a delicious coffee and baked goods! We now can't leave without banana bread and prices are really good!!Overall, we are more than happy to call Superfish our swim school!!read more

Lots of parking, Great teachers, outstanding administration staff. The one & only Mrs Wendon coaches squad, worth her... weight in gold.read more

Fantastic childrens classes, teachers really love what they do. Highly recommend!

Great Place to be - our kids are going there for past 1 year and enjoys with all teachers - everyone's friendly - Thank... You...read more

Decking Wood QLD Trade Timber & Hardware S.
02:54 20 Feb 18
A big "thank you" to Bellena for going the extra mile organising our children's lessons. You're a super star! Your... efforts have made my time at the pool with our 4 boys much more achievable. Once again "thank you"read more

Christine K.
05:56 11 Feb 18
Teaching kids to swim great!!! 😘

My four year old son has come a long way in nine months, from not wanting to get into the water and sobbing throughout... his first lesson, to now swimming across the pool by himself without a kickboard. We can't recommend this swim school enough. The instructors are so dedicated and patient, friendly yet firm. We will be enrolling our younger daughter in Superfish in the coming weeks! Thank you again for all that you do. You truly deliver beyond expectations!read more

Have been coming here almost 7 years and both my children love it. Very helpful and extremely knowledgeable staff who... actually take the time to get to know you. Couldn't be happier, thank you!read more

After trying another swim school closer to home we came back to superfish. Our 3yr old went backwards at the other... swim school but after coming back she has so much more confidence in the pool. The teachers are amazing and Miss Stoni is great with strong willed children like mine.read more

Karen and Andrews professionalism shines through their happy staffSuch a pleasure to deal with!

Julie McDonald O.
07:49 10 Dec 17
I love being here at Sunnybank, excellent management, training, and wonderful caring instructors.

Very friendly staff who genuinely care about our children and their needs. Highly recommended.

Benowa superfish is a great facility. My boys have both come a long way with their swim abilities. They're always... excited to go to swim lessons and the teachers are highly qualified and trained in what they do. I recommend them to everyone! 😁read more

Lyndall W.
21:21 28 Sep 17
very nice people and outstanding pool

Jamshid J.
08:28 11 Sep 17
Great swim school, highly recommend. My 10 yr old son had done lessons since he was 3 yrs old with another school & his... technique was so poor he almost didn't pass his preliminary swim for surf club nippers. We joined Superfish and within a yr he has made significant progress. I would never have thought he'd be able to achieve so much in such a short space of time. Think all the staff are great.read more

I am impressed with not only the high professional standards of these swim schools but the owners monumental efforts to... stay focused in the light of fake reviews and lies being thrown his way.Highly recommendedread more

My children started their learn to swimJourney 2 and a half years ago at the pacific pines superfish with no water... safety skills at all. They are now confident, happy and safe swimmers who are excelling in their classes. The facilities are lovely and staff work really hard to help the children master the skills they need! My kids love it when Mr Andrew visits and from a parents perspective it is wonderful to see him acknowledging them and their swimming! It truly does feel like a second family for us with many strong relationships formed! I would highly recommend Superfish!read more

Annemaree A.
02:11 05 Jun 17
State of the art facilities , program and dedicated passionate instructors !!!

Amazing staff always willing to listen and help, making everything less stressful for us and more fun and productive... for my kids.read more

Have seen amazing progress in my kids skills. Awesome teachers and admin staff are so friendly and helpful.

Family owned and run. Love that my 2 children are learning life saving skills that will carry them into adult hood by... the best program I have found thus far.My daughter is just 7 years of age and can swim all 4 strokes. Her technique is just beautiful to watch.I am so glad that I chose Superfish as the swim school for my kids.Would highly recommend........5 starts all the way!!!!read more

Bellina J.
09:26 17 Mar 17
‹
›
Why Superfish Swim Schools are so different?
Drowning Prevention Program vs Conventional Learn to Swim Classes – what's the difference? One Word: SURVIVAL!
Drowning Prevention Lessons should not be 'fun' lessons that drag on week after week, for years, wasting parents money and potentially dangerous to your child. Conventional Learn to Swim Lessons teach limited independent prevention activities, because they are usually mixed with too many songs and games, without enough 'work' on Independent Drowning Prevention Skills.
It is VITAL that Babies and Young Children attend a Drowning Prevention Program until they have attained a high degree of INDEPENDENT Drowning Prevention Skills.
Drowning Prevention needs to be established in young children 1st, then, when these skills are mastered, further Learn to Swim skills can be taught once a high degree of Prevention Skills is mastered. As well as teaching a healthy respect for aquatic environments, we need skills taught that will assist young children SURVIVE if they found themselves in a potentially deadly aquatic environment. There is a reason we do EVERY activity in these lessons. Always, as a parent, know HOW to do activities, WHY your child is doing it, and WHAT they are working towards.
As a parent, you need your baby or toddler to complete Drowning Prevention Lessons as a priority.
Our 'Stroke Perfection' Lessons vs 'Mini' Squads – what's the difference?
We keep instructors in the water with swimmers, right up to our junior squads.
We are a 'Hands On' Stroke Correction Centre. We concentrate on the 'whole' stroke. Head and Body Position are key to effective swimming. Kicking is the 'Motor' of the stroke. 'Sculling' drills teaching children to move effortlessly through the water are taught from basic Learn to Swim to Squads.
Instructors can correct stroke and stroke faults in children more effectively by being in the water an addressing faults immediately.
We do 'Short Distance' lessons, until the stroke has been mastered in a particular stroke.
We are striving for young swimmers to have the most effective swimming stroke, correcting faults that maybe hindering effective swimming.
Our focus is on technique rather than long distances.
Again, we don't use unnecessary 'aids' in lessons. Until swimmers are strong enough and effective in their strokes and introduced in advanced levels.
Swimmers are taught more effectively when a 'progression' is taught.
We conduct 'Swimming Assessments' with children regularly (every 8 weeks) to monitor their swimming progression.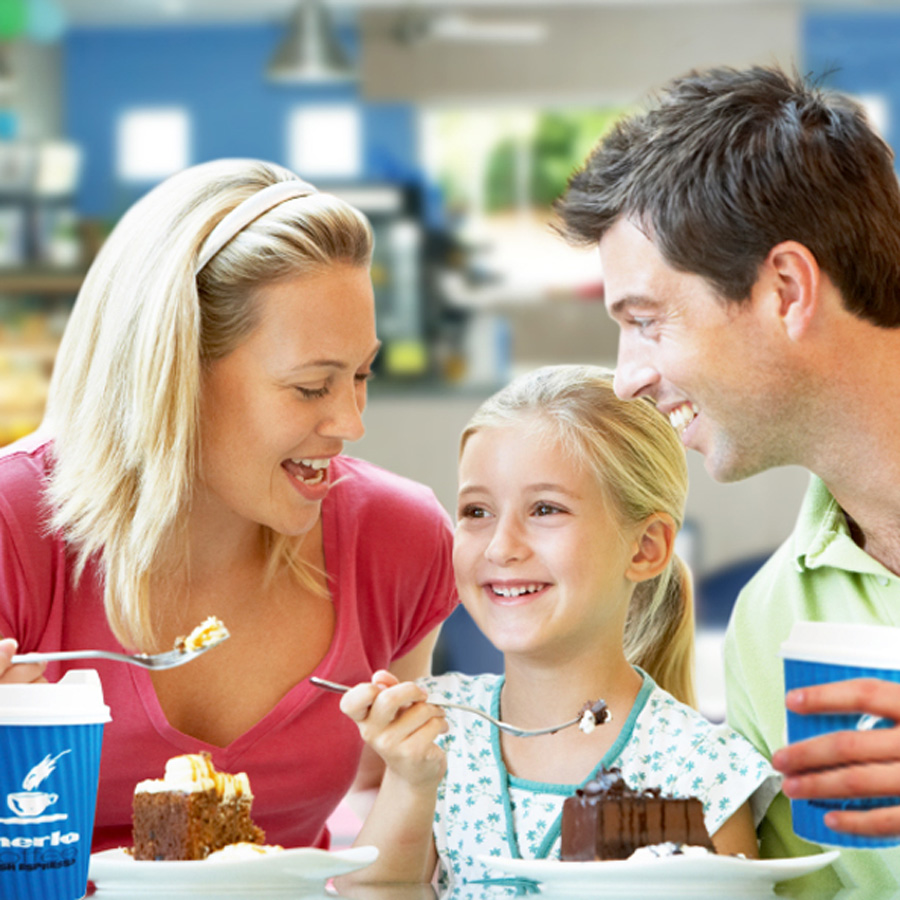 Barista quality Merlo coffee, snacks and drinks - open to the public
Goldfish Cafes