ANDREW BAILDON'S SUPERFISH SWIM SCHOOLS
The Drowning Prevention and Learn to Swim Experts Since 1996
Looking for the best swim schools on the Gold Coast, Brisbane and Redland Bay?
We have more experience, knowledge and professionalism – and we're fun!
But don't just take our word for it, see what our customers have to say:
Parent Portal:
Click on your school location button to create an account, log on to the parent portal and view class schedules.
Why your child's swimming lessons should be at Superfish Swim Schools:
Industry Revered, World Class Swimming Programs
Developed by Swimming Industry Speaker/Educator Karen Baildon and International Swimming Champion, Commonwealth Games Champion and Olympian Andrew Baildon, our programs include:
Drowning Prevention
Learn to Swim for babies of 4 months to adults
Group & Private Swimming Lessons
Swim Squads
Public Swimming & Lap Swimming
Aqua Aerobics & Adult Fitness Classes
Exceptional Schools Swimming Programs
Acclaimed swimming programs for Primary Schools in South East Queensland, providing the very best service, with better staff to student ratios, at a very competitive price – tailored to suit the needs of each school.

Remarkable Teaching Staff
Fully qualified and trained to the highest level, from our admin team to our highly trained swimming instructors, to the personal trainers and our baristas in the cafés; our team really do want you to enjoy their expertise every time you visit.
Kerryn, Superfish Pacific Pines Centre Manager & Head Trainer/Assessor, was awarded ASCTA 2017 AUSTRALIAN TEACHER OF THE YEAR! READ MORE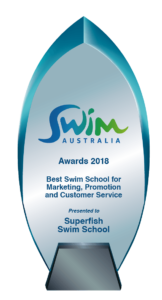 ASCTA Award Winning Outstanding Customer Service
We're dedicated to making your time with us an enjoyable and friendly experience. Your comfort and satisfaction are our priority, seriously, and we have recently been awarded the ASCTA Best Swim School for Customer Service, Marketing & Promotion
Indoor, Heated Aquatic Centres on the Gold Coast and in Brisbane!
Specifically designed for teaching and coaching, our swimming pools are indoors and heated to 31.5˚ approx. for year-round swimming. We pride ourselves on our swimming water quality, testing our pools 3 times a day, plus purification systems are installed for clean, warm water.
Outstanding Facilities
We provide heated changing room facilities, viewing areas and enclosed play areas for children with TV/DVD.
Barista quality Merlo Coffee plus tasty snacks and beverages.
Awesome Children's Swimming Pool Parties!
A fantastic 2 hour, fully catered pool party in Sunnybank, Pacific Pines or Benowa, with fun activities and party games with a qualified instructor. Suitable for children age 6 up to adults.
We pride ourselves on our water quality, testing our swimming pools 3 times a day, plus purification systems are installed for clean, warm water.
Why Superfish Swim Schools are so different?
Drowning Prevention Program vs Conventional Learn to Swim Classes – what's the difference? One Word: SURVIVAL!
Drowning Prevention Lessons should not be 'fun' lessons that drag on week after week, for years, wasting parents money and potentially dangerous to your child. Conventional Learn to Swim Lessons teach limited independent prevention activities, because they are usually mixed with too many songs and games, without enough 'work' on Independent Drowning Prevention Skills.
It is VITAL that Babies and Young Children attend a Drowning Prevention Program until they have attained a high degree of INDEPENDENT Drowning Prevention Skills.
Drowning Prevention needs to be established in young children 1st, then, when these skills are mastered, further Learn to Swim skills can be taught once a high degree of Prevention Skills is mastered. As well as teaching a healthy respect for aquatic environments, we need skills taught that will assist young children SURVIVE if they found themselves in a potentially deadly aquatic environment. There is a reason we do EVERY activity in these lessons. Always, as a parent, know HOW to do activities, WHY your child is doing it, and WHAT they are working towards.
As a parent, you need your baby or toddler to complete Drowning Prevention Lessons as a priority.
Our 'Stroke Perfection' Lessons vs 'Mini' Squads – what's the difference?
We keep instructors in the water with swimmers, right up to our junior squads.
We are a 'Hands On' Stroke Correction Centre. We concentrate on the 'whole' stroke. Head and Body Position are key to effective swimming. Kicking is the 'Motor' of the stroke. 'Sculling' drills teaching children to move effortlessly through the water are taught from basic Learn to Swim to Squads.
Instructors can correct stroke and stroke faults in children more effectively by being in the water an addressing faults immediately.
We do 'Short Distance' lessons, until the stroke has been mastered in a particular stroke.
We are striving for young swimmers to have the most effective swimming stroke, correcting faults that maybe hindering effective swimming.
Our focus is on technique rather than long distances.
Again, we don't use unnecessary 'aids' in lessons. Until swimmers are strong enough and effective in their strokes and introduced in advanced levels.
Swimmers are taught more effectively when a 'progression' is taught.
We conduct 'Swimming Assessments' with children regularly (every 8 weeks) to monitor their swimming progression.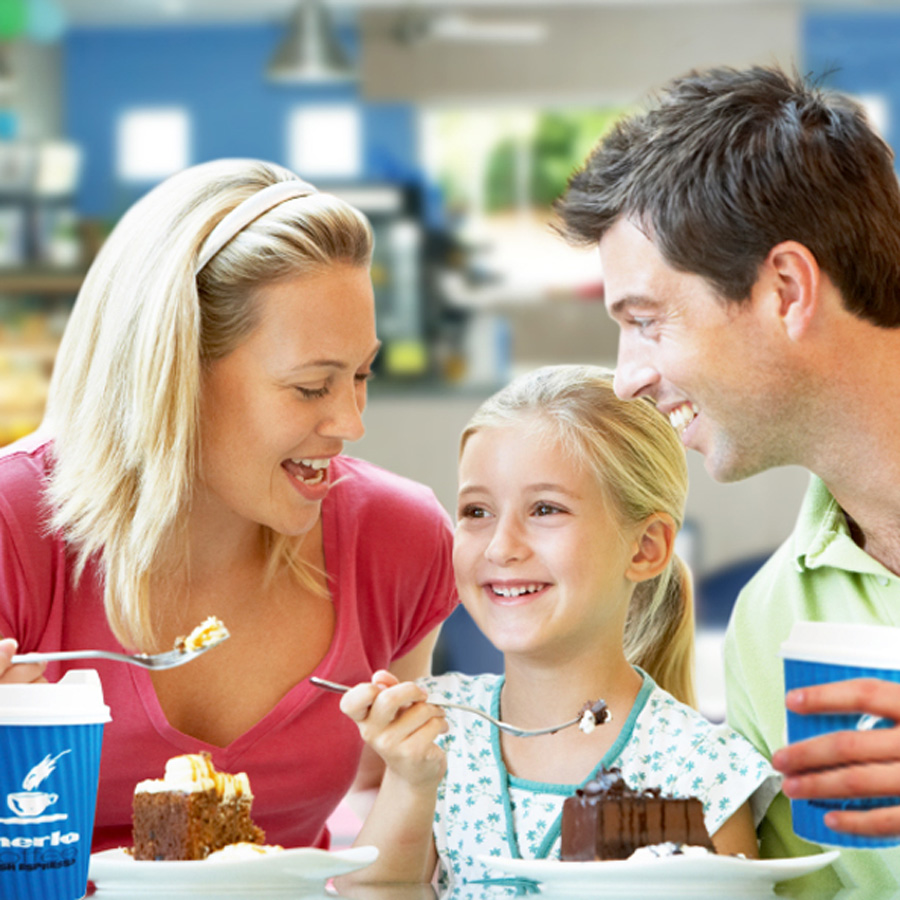 Barista quality Merlo coffee, snacks and drinks - open to the public
Goldfish Cafes