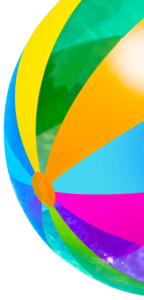 A fantastic 2 hour pool party, with fun activities, games and a qualified instructor.
Party prices*
$18.00 per person
Monday to Friday 1:00pm – 3:00pm
Saturday 1:00pm – 3:00pm or 3:00pm – 5:00pm
$22.00 per person
Monday to Friday 7:00pm – 9:00pm
Sunday 10:00am – Noon or Noon – 2:00pm
*Prices are for each individual that swims in the pool and/or is involved in the party activities (including adults swimming and/or participating at children's parties). Additional siblings and parents WILL be charged if entering the pool, at Public Entry Prices.
Minimum
A minimum of 15 paying persons is required to book a Pool Party. Less persons may attend, however the minimum price charged will be for 15 persons.
Deposit and payments
A non-refundable $50.00 deposit is required, no later than 2 weeks prior to party booking date. The balance of the payment must be finalised at the completion of the party, on the party day. Additional swimming persons WILL be charged at the above rates, if joining into pool party games. Other swimming patrons will be charged at Public Swimming rates.
Your 2 hour pool party booking will include:
Use of Superfish Swim Schools facilities, including indoor heated pool/s, changing rooms, café/kiosk area, stereo system, television, tables/chairs and infants playpen.
Pool entry for each paying party invitee;
FREE entry for accompanying, non-swimming and non-participating adults/patrons;
One qualified staff member to lifeguard for a 2 hour period;
1 hour of pool party activities and games, run by a qualified (Blue Card, Austswim and CPR) instructor a 2nd Superfish staff member will help organise table & party set-up, drinks & additional purchases. An additional instructor will be included when higher numbers and younger participants.
Use of a range of fun pool play equipment.
Decoration package includes:
Each paying party guest receives:
A packet of crisps per paying party guest;
Bottomless cordial;
Plates of lollies on party tables;
Tables will be decorated with balloons;
Cups, napkins and paper plates.
Party Tables will be decorated with balloons.
Pool Parties are Self Catered, outside of crisps, cordial and lolly bags.
Optional extras:
A range of additional food and drinks are available for purchase at the café/kiosk.
Extended times and or variations to the standard options can be organised through Superfish Swim Schools management.
Patrons are welcome to further decorate and theme the party if required.
Conditions
The minimum age of the birthday child must be turning 6 years of age. All guests under 6 years must be accompanied by a parent or guardian.
All Pool Party attendees MUST have a completed and signed waiver form, prior to entry and commencement of Pool Party.
The person booking the "Pool Party" MUST ensure that ALL persons attending the party have an independent degree of water safety and are efficient swimmers. Please ask management for Superfish water safety guidelines.
Persons holding the "Pool Party" will take full responsibility for their guests' safety, whilst guests are attending Superfish Swim Schools.
Our qualified staff will take utmost care to ensure the safety of Pool Party Patrons, however, Superfish Swim Schools and Baildon Aquatics Pty Ltd take NO RESPONSIBILITY for persons in the facility during the Party Booking.
Superfish Swim Schools and Baildon Aquatics Pty Ltd are privately run facilities. Management holds the right to remove persons from the facility, at any time, if the pool rules are not followed, or for unruly behaviour. Superfish Staff also has the right to remove attendees if swimming skills not adequate and unsafe.
The facilities are to be left in the same conditions as prior to the function. The persons holding the Pool Party are responsible for assisting Superfish staff with cleaning the area of the Party Function.
Alcohol is banned from the facilities, at all times.
Glass wear is prohibited in the centre.
Booking and paying of the non-refundable deposit, confirms that Pool Party Booking Patrons agree and adhere to all policies and conditions at Superfish Swim Schools, as stated above.