Learn to swim the RIGHT way!
World Class Swimming Programs
Superfish Babies
Babies 3 Months (13 Weeks) to 5 Months (24 Weeks)
---
30MINS
Our FREE 3-5 Month Babies water familiarisation classes are a beautiful introduction to a babies learn to swim journey. Working with movement in the water, building trust, a Babies's natural reflexes and conditioning young babies to submerge them under the water.
Sign up with Superfish Swim Schools now and receive FREE LESSONS FOR 3-5 MONTH OLD BABIES TO THE VALUE OF $210! UP TO 12 LESSONS FREE*!
*ONE FREE lesson per week until 6 months. Proof of date of birth must be provided.
These classes are also a special bonding time for the carer and bub, preparing them for our Dippas Drowning Prevention Program.
Superfish Dippas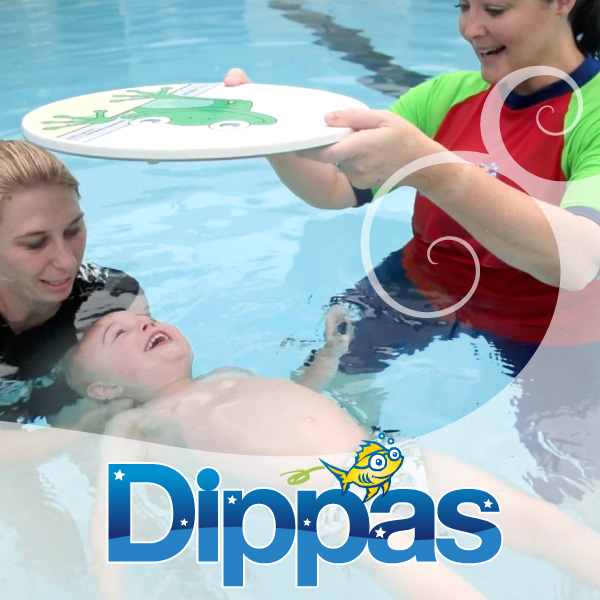 A 3-Level Water Safety Program
For Babies and Toddlers
---
Babies 6 Months (25 Weeks) to 15 Months
30MINS
Classes have set routines with songs to encourage and give confidence to babies. Breath control, survival skills, reflex action and floating drills are the focus of this class, teaching your babies life saving skills.

Toddlers 15 Months to 3 Years
30MINS
Because of an increasing physical ability and mobility, toddlers start to experience a broader range of activities and drills. Similar to D1 classes, we teach breath control, survival skills, reflex action and floating drills.

Toddlers 18 Months to 3 Years
ADVANCED
30MINS
Toddlers are now quite advanced with their water confidence, floating and reflex action skills but still need Mum or Dad to lend a hand. This level is designed to challenge toddlers, learning new important drills to prepare them for our Flippa's Program while slowing weaning Mum and Dad out of the class.
The goal of these classes is to give your child a high degree of WATER AWARENESS AND DROWNING PREVENTION through constant repetition of exercises in classes over a consistent period of time.
Superfish Flippas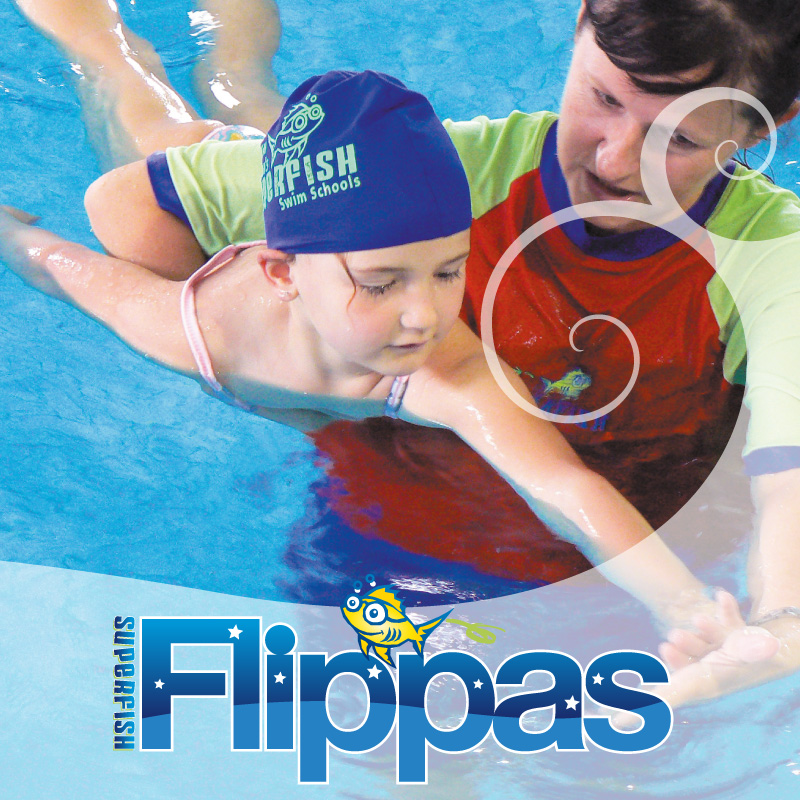 A 2 level Water Awareness and Learn to Swim with Confidence Program
From 2.5 Years+
---
Independent Water Safety
2.5 Years+
30MINS
The most important step for our FC1 swimmers is to achieve shallow water confidence and water awareness. Children will learn breath control, floating, long arm under water paddles, streamline kicking, kicking on a board, submersion drills, reflex action and survival skills.

Advanced Water Safety Confidence
3 Years+
30MINS
FC2 children will learn deep water confidence and deep water awareness. Children will learn correct head and body positions, long arm under water paddles, streamline kicking sills, concentrating on length and strength of stroke. We teach lots of kicking drills, to develop a very strong "motor" for both freestyle and backstroke.
This program focusses on WATER AWARENESS. Once a level of independent water awareness is attained we can combine this with learning correct, basic swimming drills. Children are encouraged to achieve these water awareness and swimming skills through repetitions over a consistent period of time.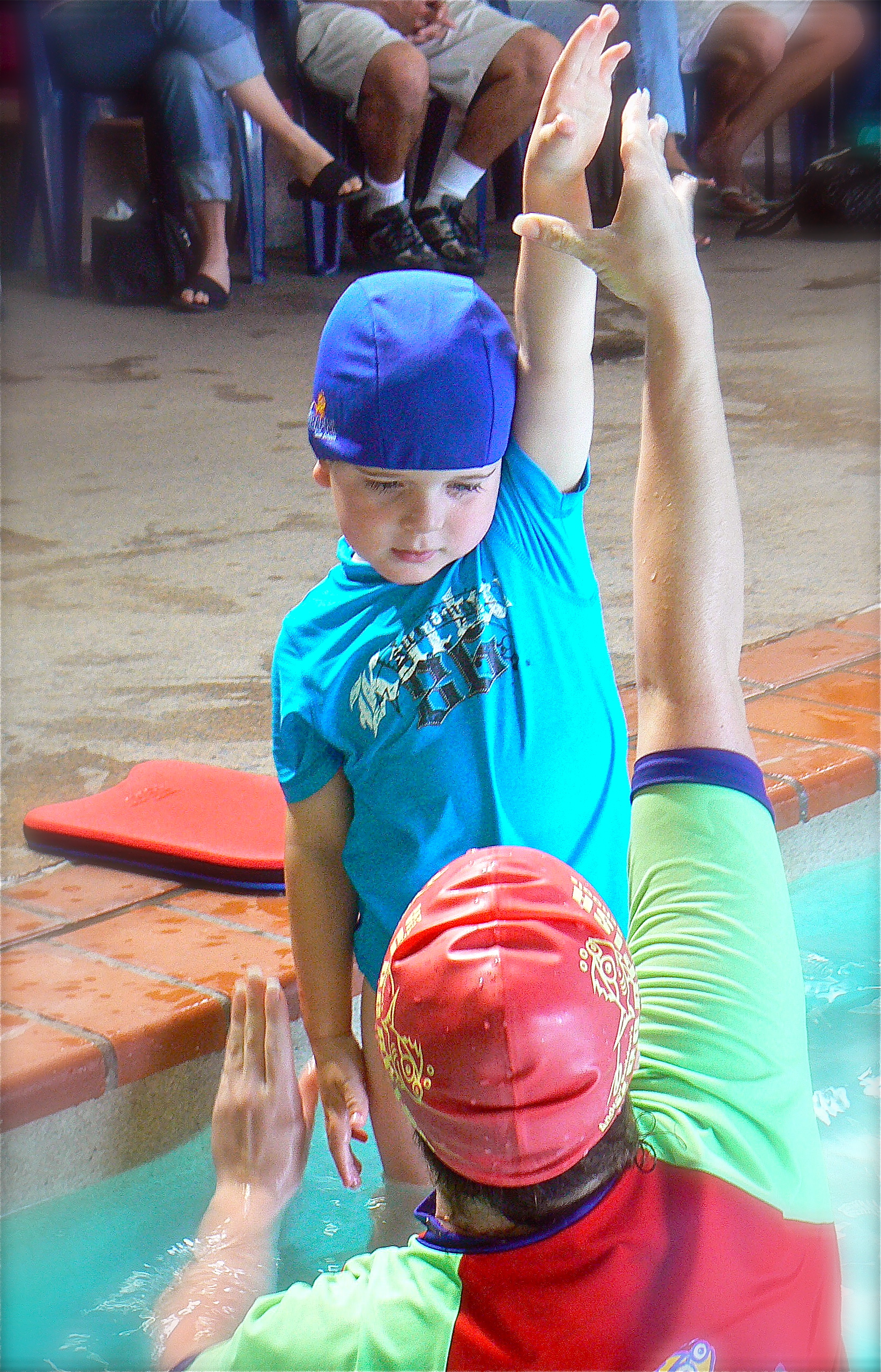 Superfish Nippas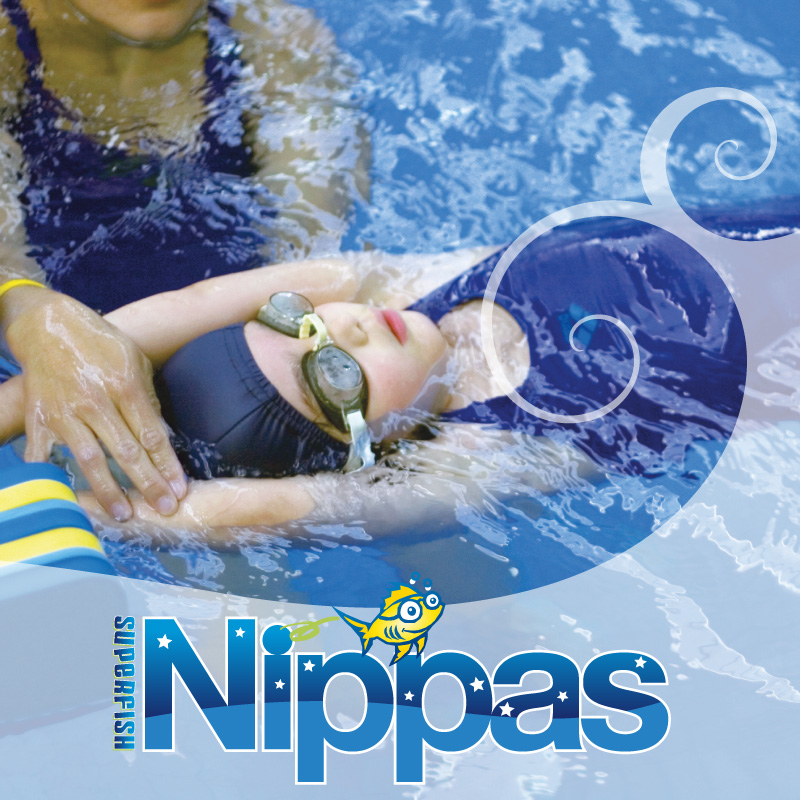 A 5 level program covers Basic Learn to Swim through to Advanced Stroke Correction.
---
Learn to Swim with Confidence and Basic Technique
30MINS
Comfortable, well balanced head and body positions are taught – vitally important in freestyle and backstroke. Focus is also on short distance drills to achieve straight arm, superstretch freestyle and backstroke, kicking drills and advanced deep water awareness activities. Breastroke Kick is also introduced.

Swimming Techniques with Different Strokes
30MINS
Correct side breathing technique in freestyle is now taught and now that children have perfected a streamline head and body position we look for length and strength in freestyle arms and a very strong kicking leg action. We introduce more backstroke drills and breaststroke kick. We still perform short distance lessons that focus on perfecting technique.

Stroke Technique Correction and Advanced Learn to Swim
30MINS
Now swimming freestyle and backstroke with efficient stroke technique, we introduce longer distances and more advanced drill work. Breaststroke stroke and kick co-ordination are perfected and butterfly kick introduced. Focus on maintaining an excellent stroke technique while completing longer distances.

Advanced Stroke Technique Correction – Prep Squad
45MINS
With a good foundation in freestyle, backstroke and breaststroke techniques, we introduce advanced stroke technique drills. Butterfly skills and drills are developed while race dives, turns and push offs are further advanced.

Prep Squad
60MINS
Whilst still developing stroke techniques in all four strokes, we introduce a "keyhole" butterfly stroke pattern. Race dives, turns and push offs are perfected and timed and clock sets are taught to understand squad work. We now see children who have a consistent stroke over long distances.
We invest time to learn the basics of swimming, then focus heavily on the importance of perfecting stroke techniques before attempting to swim longer distances.
Superfish Squads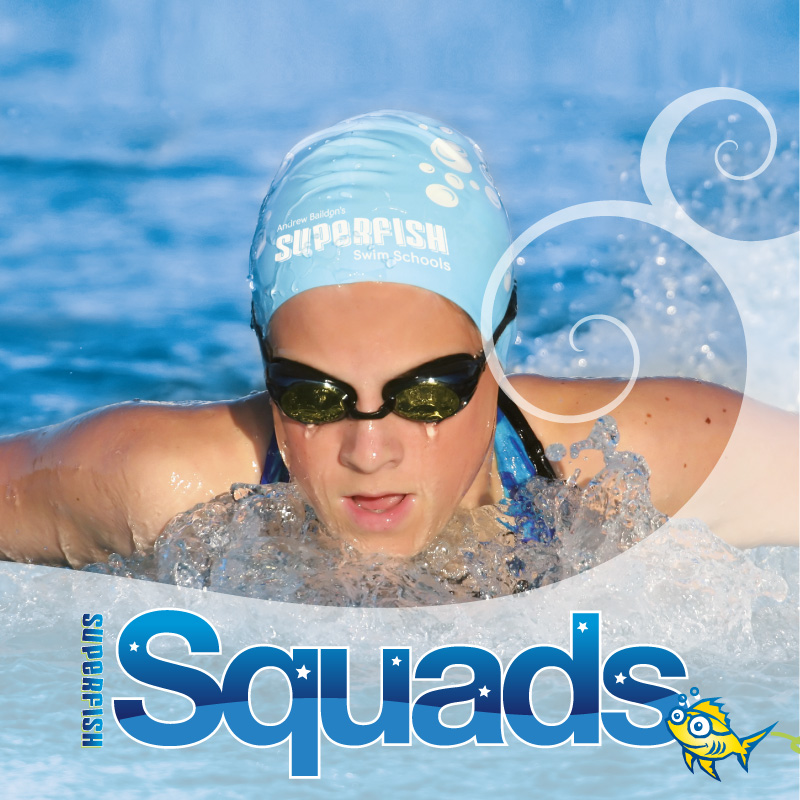 Our most advanced level
Advanced Stroke TechniquesCorrect Training TechniquesEndurance Training
---
90MINS
These children are now training at a competitive level for school, regional and state level swimming. For optimum results for the level of ability swimmers have now reached, squad swimmers are advised to train at recommended number of sessions per week, outlined by squad coach and in the SUPERFISH Swim Schools' Senior Squad Brochure.
How to join the Superfish Senior Squad Program
Students will be required to have a swimming assessment to qualify for the Superfish Squad Program. Students are assessed based on their swimming skills over all 4 strokes, current fitness level and suitability for entering a Squad program. You will be requested to complete an enrolment form. Our office staff will assist you in finding session days and the times.
Recommended Sessions
Superfish Swim Schools recommend the following guidelines based on the swimmers age. We recommend this as a minimum requirement for optimum results. This program has been outlined by Andrew Baildon and Denis Cotterell, Master Coach, Australian Coach of the Year, Olympic Coach, in conjunction with our squad coaches at Andrew Baildon's Superfish Swim Schools.

Senior Squad Booking System
We have a fully computerised booking system. All information including squad
history, payments, session attendances and make-up sessions are recorded.
Swimmers will nominate days per week that they will attend.
These are permanent sessions booked.
Your nominated sessions will be automatically carried over from month to month, unless you instruct administration otherwise.
Session bookings remain until you notify administration of a change, either a permanent session change with days nominated, or to cease Squad.
Squad sessions have restricted numbers. Your booking guarantees your placement each session.
An unsurpassed Senior Squad program, created by our swimming champions, for swimming champions.
Superfish Adults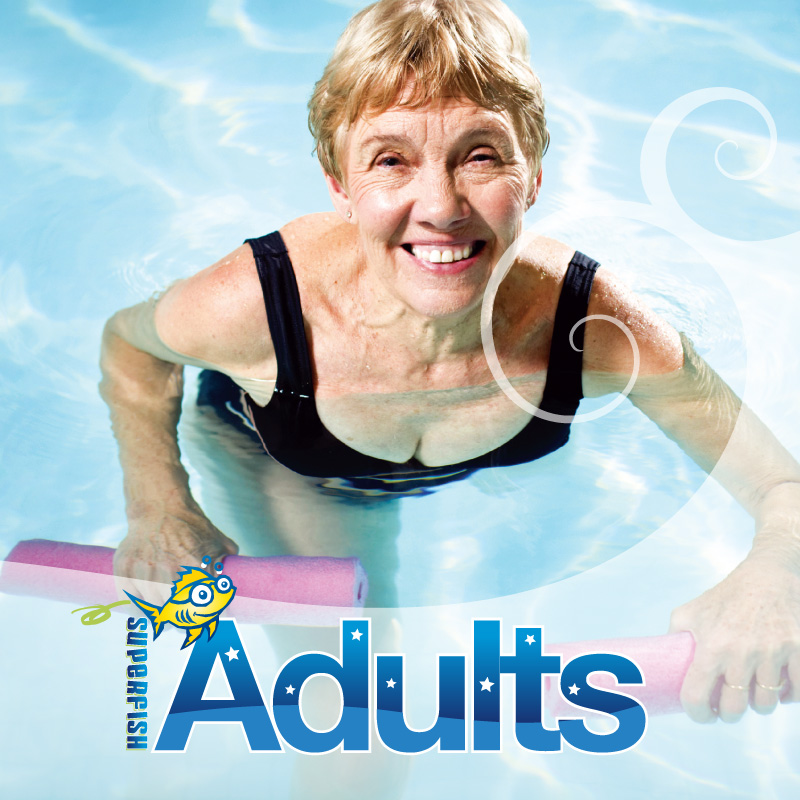 Get fit, have fun, make friends!
Indoor heated pools with exceptional water quality!
---
"Swimming is a great workout because you need to move your whole body against the resistance of the water. Swimming is a good all-round activity because it:
keeps your heart rate up but takes some of the impact stress off your body
builds endurance, muscle strength and cardiovascular fitness
helps maintain a healthy weight, healthy heart and lungs
tones muscles and builds strength
provides an all-over body workout, as nearly all of your muscles are used during swimming."
Personal Training
One-to-one tuition, tailored to your needs.
Available 6 days a week (for adults and children). Enjoy swimming in our year round, indoor heated pools. No bookings are required!
Adult Squads
Improve your fitness, have fun and meet people. All fitness standards are catered for within our fantastic programs, with our qualified coaches.
A fantastic cardiovascular workout, lose weight, body fat and gain strength while the warm water relaxes you and increases circulation.

A low-impact, fun way to fitness!
Superfish Schools Program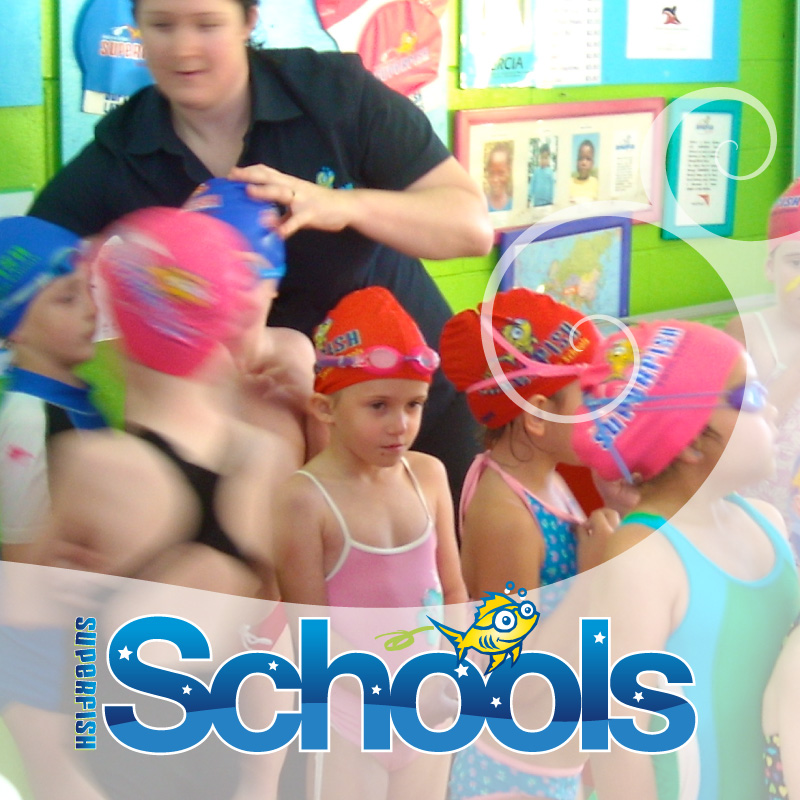 The Ultimate Professionals
We make it easier for schools!
---
Acclaimed swimming programs for Primary Schools in South East Queensland, at Pacific Pines and Benowa on the Gold Coast, and Sunnybank, Brisbane.
Our School Swimming Programs provide your school with the very best service at a very competitive price. We design a program that suits the needs of your school. We focus on:
quality 'learn-to-swim' instruction
stroke correction
fitness training
We offer better staff to student ratios. With smaller classes, students learn to their full potential. All levels and abilities are catered for, with each student treated as an individual. Every student is nurtured and encouraged to achieve their best in every class. We pride ourselves on offering a better overall experience and great service:
Our centres are indoors and pool water is heated to a consistent 30-31˚ all year.
We can comfortably accommodate up to 50-60 primary students at the one time-slot.
Our School Swimming Instructors are all fully qualified and are especially trained in conducting School Swimming Programs.
The pool is available at your disposal five days a week for all four terms of the school year, dependent on availability with other School's bookings.
We provide your families with our detailed 'Parents Information Letter' prior to the commencement of the swim program.
We provide your school teachers with our detailed 'Teacher Information Sheet' prior to the commencement of the swim program.
Each student receives a Colour Certificate, outlining student's swimming levels and discount vouchers for further lessons at the completion of every program.
We offer bus transportation for the swimming program.
All children will be assessed on the 1st lesson day and then graded into groups according to their ability and swimming skills.
Our staff make every effort to ensure that every child, regardless of if they swim at other swim centres, feels welcome and comfortable in our facility.
Our schools program offers your students a range of programs all designed to cater to your busy school schedule.
Programs include assistance with class rostering and organisation, to make this program 'hassle free' for your school.
We provide these OPTIONAL services:
A 7 level 'Swim and Survive Program' run by The Royal Life Saving Society of Australia with Royal Life Saving Australia certificates.
Swimming Caps for Students.
A 'fun' swimming day on the final day of the program, with water games and activities.
Carnivals on the final day of each program.
Swimming Time Trials for each Student at the completion of the program.
Kindergarten Programs & Child Care School Holiday Programs also available. CALL: BENOWA: 07 5597 1311
PACIFIC PINES: 07 5529 4343
SUNNYBANK: 07 3323 3188
WORONGARY: 07 5530 6116

Frequently Asked Questions