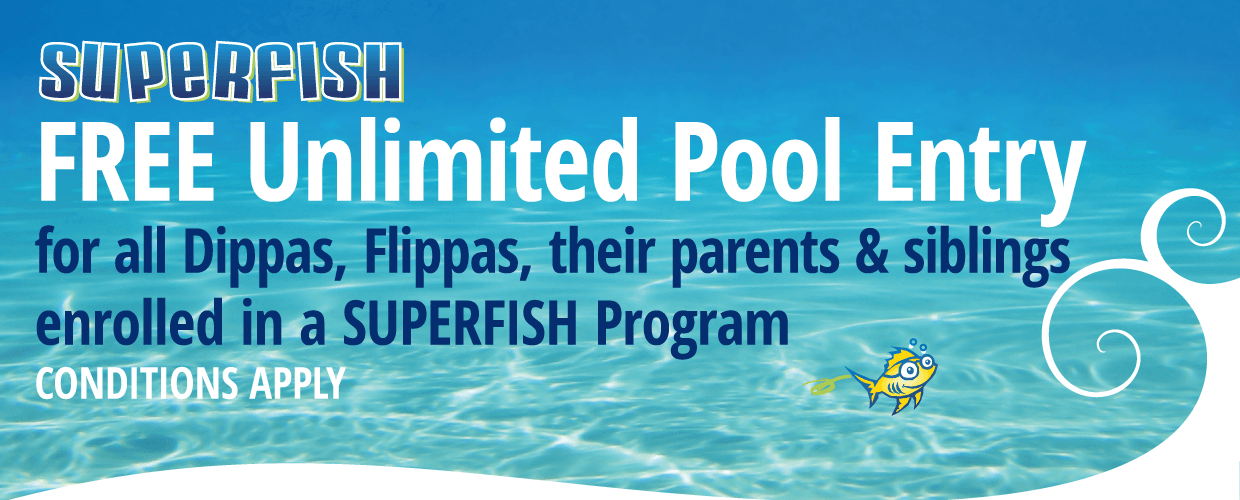 YES! FREE Unlimited Pool Entry for all children currently enrolled in a Superfish Swim Schools Dippas and Flippas programs – and their parents and siblings.
FREE SWIMMING AT SUPERFISH TERMS AND CONDITIONS:
Immediate Family ONLY
Parents, Grandparents, Carers & Siblings ONLY to enter FREE SWIM with the BABY, TODDLER or UNDER 5 currently enrolled in our Dippas or Flippas Program.
FREE SWIMMING is available only in Public Swimming Times. Timetables available online and in centre.
ALL children MUST be Accompanied by an Adult, IN THE POOL.
For the Safety of all Children – Children MUST BE supervised outside lesson times, during additional swimming times.
It is the Parent's/Carer's responsibility for Supervision of Children outside Lesson Times.
We ask that you only swim AFTER LESSONS or on alternative days to lessons.
Swimming BEFORE lessons is not permitted, under any circumstances.
Families MUST sign a PUBLIC WAIVER on Entry
If you are planning on having a FREE SWIM – Public Swimming Waiver MUST be signed, at front counter.
Thank you and Practice, Practice, Practice!!!