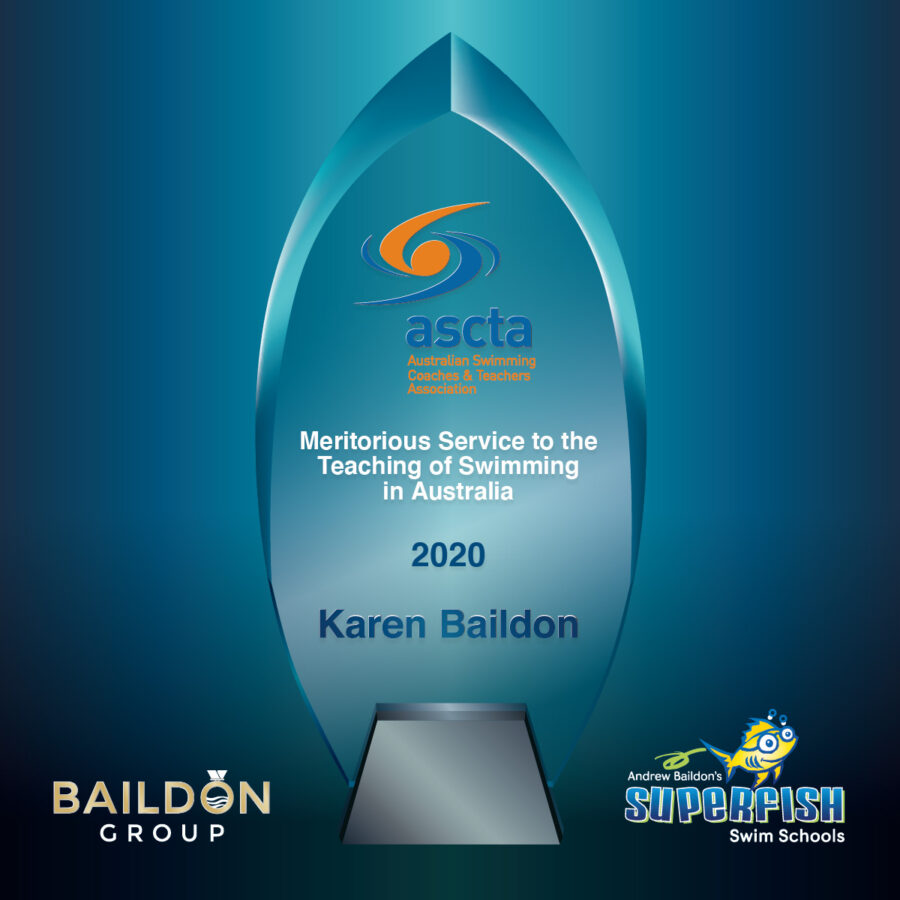 Congratulations to our amazing Karen on being awarded the ASCTA "Meritorious Service to the Teaching of Swimming in Australia" award for 2020.
The team are so proud to work with Karen, our dynamic Co-Founder and General Manager. 
"I have a particular passion for drowning prevention and infant swimming, ensuring our swim schools provide premium, LIFE-SAVING, Learn to Swim programs. I am also proud of our high customer service standards and constantly strive to ensure that we excel in all that we do." - Karen Baildon 
In Business, Karen:
- developed and opened Andrew Baildon Aquatic Centres (now Superfish Swim Schools) in 1996, co-creating all of the swim programs with Andrew, Superfish Swim Schools is now in its 25th year in Sth East Qld.
- plays an integral role in the growth of the organisation, from investigating and researching potential opportunities, refurbishment and construction.
- takes a very hands-on role in all aspects of the daily running of Superfish Swim Schools.
- is highly skilled and experienced in sales and marketing, promotions, events, human resources, swim program development, team training and community support/PR.
- is a highly regarded, program development specialist for all levels of swimming (babies to adults, learn-to-swim to advanced stroke correction) from conception to implementation, introducing each program in workshops with her team.
International Swimming Industry
- Speaker at the 2020 World Aquatic Development Conference, Lund, Sweden on "Independent Drowning Prevention Skills in Toddlers Under 3 - without being cruel or detrimentally affecting development."
- ASCTA National Conference Speaker 2018 - Swim Australia Lecturer 2018 Melbourne, Sydney, Perth, Tasmania (Learn To Swim Programs)
- Swim Australia SwimINFO Keynote Presenter Sydney & Melbourne 2016.
 Awards
- WINNER ASCTA "Meritorious Service to the Teaching of Swimming in Australia" 2020
- WINNER: Swim Australia, Best Swim School for Marketing, Promotion & Customer Service, 2018
- WINNER: South-East Queensland Business Achievers Award for Sport & Recreation 2006
Consultant
- Advisory services incl. Runaway Bay Sports Super Centre and Couran Cove pools construction